Generally, I spend New Year's Day, thinking of resolutions.
This year I spent it cleaning up my cupboard. It was an activity I'd been putting off for long.
Going through my cupboard, I realized just how much stuff I had gathered. Items that had attached themselves to me, things that I'd once taken a fancy to, and forgotten about. Things that I couldn't throw away. What if I needed them the day after I threw them out?

With the Husband watching me, his hawk eye on high alert to make sure that the to-be-discarded items didn't claw their way back in, I had no choice but to spring clean as if I really meant it.

And then I found a bag that my younger brother, M, had bought me from London. It was his first trip abroad and I was touched that he would think of me.

The bag was large, roomy, and voluminous. I could have carried my entire world in it.

When I first laid my eyes upon it, it shone. Bright. Glossy. Burnished to perfection. The two bag straps were made of three long strips of faux leather interlaced together to resemble thick braids.

That bag was a thing of beauty. Had there been a beauty pageant for large roomy bags, mine would have won, without having to make a speech about world poverty.

It was so chic and stately, I couldn't bring myself to dilute its appeal by treating it as just another bag. There had to be a right occasion that would allow it to exhibit its exquisiteness.

Until that right occasion showed up, it would stay in storage, biding its time, like a debutante waiting to be properly introduced into Society.

I packed the bag in a polythene bag, and placed it in the cupboard, and forgot about it. For months it lay there, as life and its compulsions overtook me.

When M asked me whether I liked the bag, I told him that I loved it. It was the truth. When he asked me why I didn't use it, I told him that I was waiting for the right occasion to flaunt it.

An occasion did present itself, along the way. But it wasn't of the scale of grandeur that would befit the bag. Or so I thought. So I let it lie.
This New Year's Day, I unwrapped the polythene covering, to have a look at my priceless possession.

Shedding bits of skin, it looked wasted and sickly.

For a desperate moment, I wondered if I could still carry the bag around. What if I held the damaged side close to my body? But that was not the solution. The bag was once a thing of beauty. I could not subject it to a life of shame, as if it, not I, were to blame for its mottled, moulted skin.

I emptied the rich mahogany shavings of bag skin into the trash can, and gazed at the bag.

At my request, the Husband took a picture of the bag.


I needed a reminder to live in the here and now, not to wait for some ephemeral date in the future when I would relish life. I needed a wake-up call to use what I had, things, talents, abilities.

Who knows how much time we have left?

The stuff we have must be used or else it will be ruined.

Our physical and mental abilities must be nurtured or else they will atrophy.

Even when it was unusable, that bag taught me a lesson.

I just hope I remember the lesson through 2014.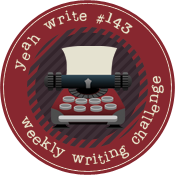 (This post has been written for the Weekly Challenge at
Yeah Write
.)